瞬時花園 Instant Garden
香港會議展覽中心 Hong Kong Convention and Exhibition Centre
2021.11.26-12.2

「瞬時花園」探索我們如何與藝術作品產生相互的關係,並由此重拾我們對預期或未知之物的好奇心,以及其它隨之而來的新的聯繫與體驗。

設計將會展中心傳統的展覽空間改造為一個容納相遇與感官體驗的環境,展出佳士得2021香港秋季拍賣十一件藝術品。高低錯落的墻或曲或直,在橫向與斜向同時創造出壓縮與闊張的視野。數位掃描與打印的雲石肌理經過對稱、鏡像與疊加的處理,在深灰鏡面塑膠中不斷折射與反射;厚實的高墻變成深邃的空間,成為我們與藝術作品相遇的無限場所。

或許,在這一場關於發現與驚喜的變幻之旅中,我們將在某一瞬間找到屬於自己的秘密花園。

Instant Garden is an invitation to explore how humans and works of art could emerge in relation to each other. An invitation to recollect our sense of curiosity, and to discover new associations and experiences, for both the anticipated and unexpected.

The design transforms Hong Kong Convention and Exhibition Centre's viewing space into an environment that hosts encounters and sensations, featuring the 11 artworks from 2021 Hong Kong Autumn Auctions. The tall and short walls are curved and straightened to create compressed and expanded views in both lateral and diagonal directions. Marbles are digitally scanned and printed; their textures are symmetrized, mirrored, and multiplied; the dark chrome vinyl is subtly refracted and reflected. Thick walls transform into deep spaces, and many places reveal themselves for our intimate interaction with the artworks.

In search of a sustainable construction method for the exhibition, we collaborate with our contractor to create a lightweight assembly system with easy-to-recycle wood studs and thin finishes, reducing transportation load and material waste. Despite its thinness, the dark chrome vinyl wrap makes a deep sense of space, rendering the surrounding artworks into the background with unique textures and materialities. The entire garden was assembled in three days.

In this fluctuating experience of discovery and delight, there is an instance for us to find our own secret garden.
團隊
Team

蘇暢、邵陽、江令瑤
Su Chang, Shao Yang, Kong Ling Yiu

攝影
Photography

紀翔
Ji Xiang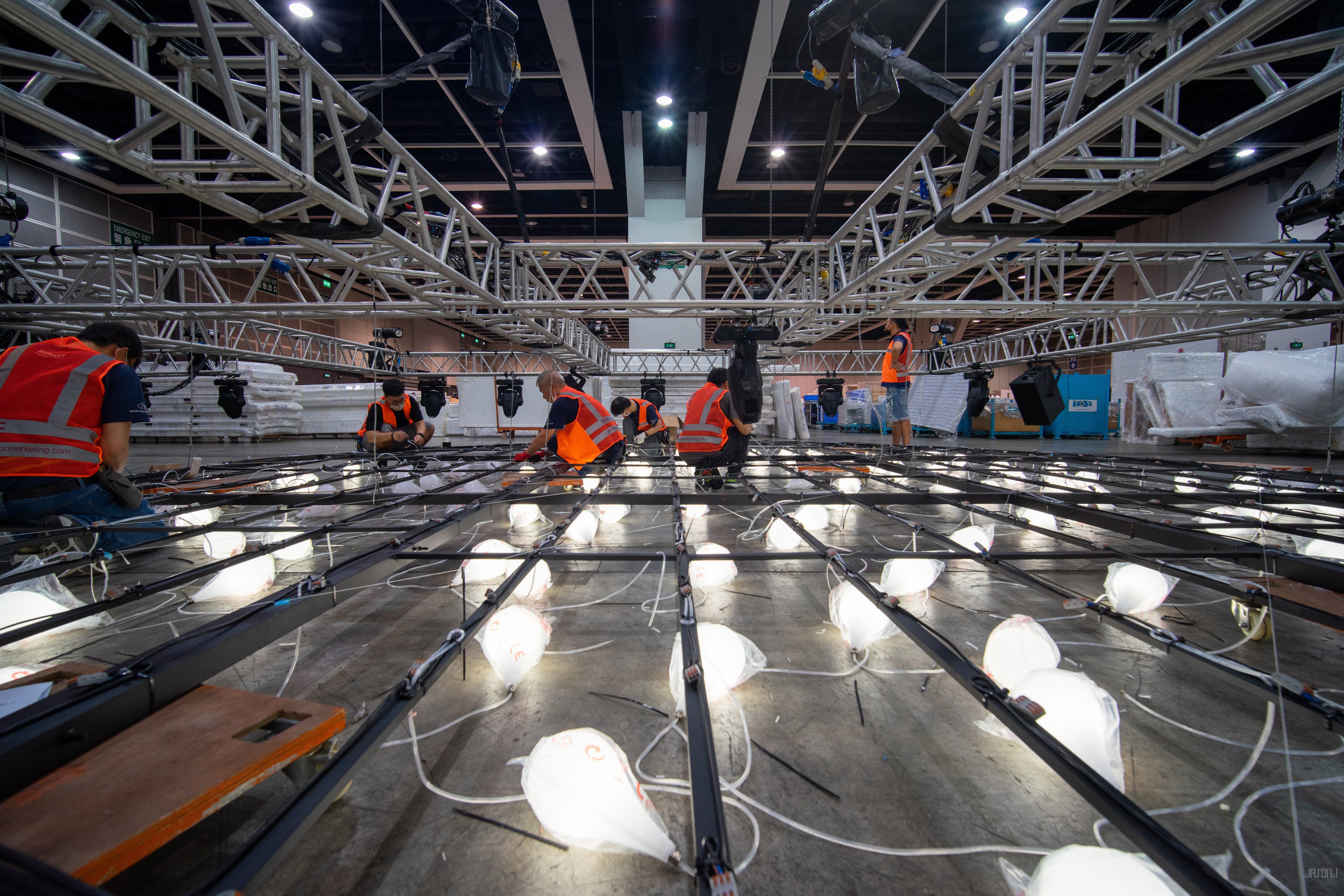 SU CHANG DESIGN RESEARCH OFFICE © 2023